Until this very day Myanmar is a poor country. But need is the mother of invention! Ever since I came here for the first time more than forty years ago, I have admired her people's talent for improvisation. Take those rattling engines (Made in China), which delight our hearts and ears – not only at Inle Lake. They are not boat engines, but general-purpose ones. Of course there are boats with modern engines on the lake. Indevi company e. g. offers boats on which guests can even chat! However, they are four times as expensive as the usual bangers. Not everyone can or wants to spend that much. But the use of these stinking air polluters is by no means limited to boats. They offer almost unlimited options: they drive rice mills and pumps as well as those ubiquitous transport vehicles cobbled together by local workshops (see picture) that can be seen in the countryside. The variations are almost as unlimited as the amount of hazardous substances they're emitting …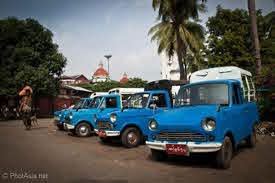 But there have always been 'real' cars in the country, too. In addition to rickety road cruisers there were a few English Morris Minors and Japanese Mazda – Made in Burma! With no less than 360 or even 600 cc displacement. But without a rotary engine, of course. The huge majority of them sported a sky blue varnish (hence the name blue cap!) and resembled the East German Trabant pickup (Trabbi). The Burmese called them lay bein (four wheels), because there were three wheelers, too. The latter resembled the 1950's Borgward Goliath, made in Germany. The lack of two-wheelers was striking. As we heard later, they were banned in Yangon! The buses were sensational: Bedfords and Chevrolets from the 1940s! Converted military trucks from Canada with wooden bodies! The destinations could not be read, as everything was written in pretzel script. And people were sitting in those bangers as if it was the most common thing to do in this world. Until then, I would have considered those buses more of a fairground attraction.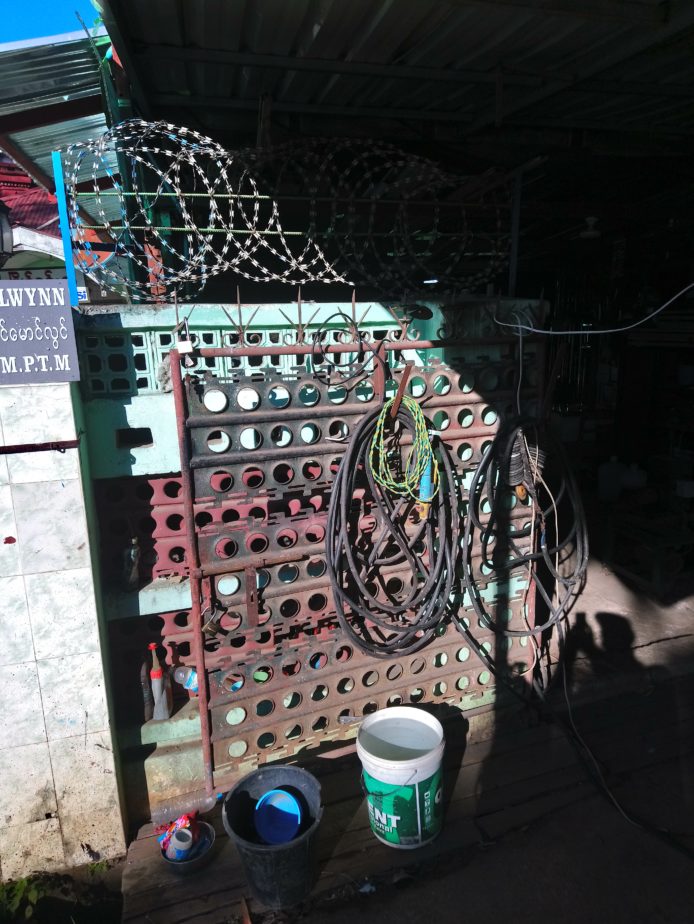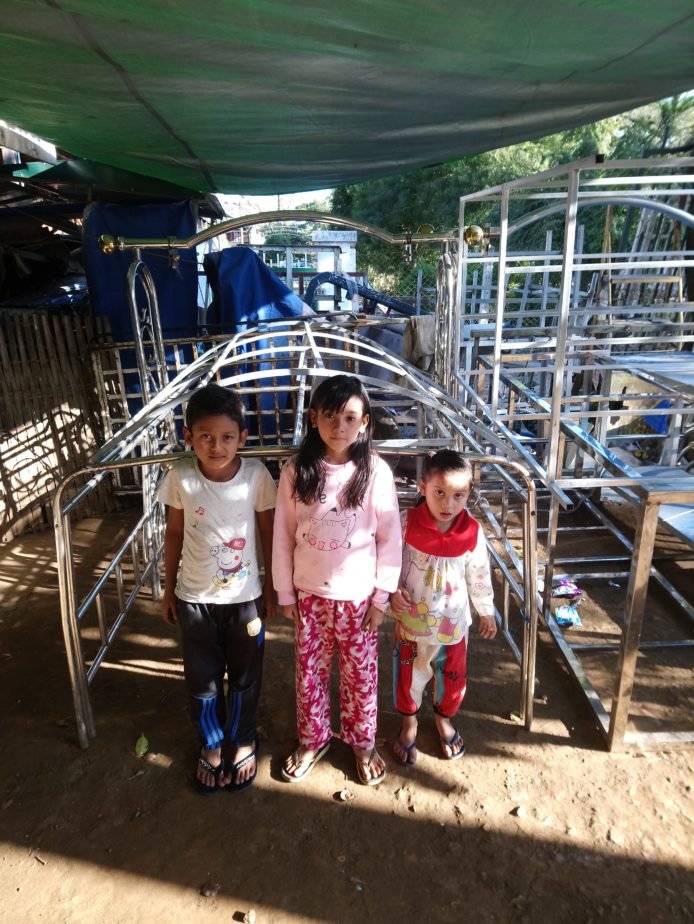 I have divided the development of the last forty years in Myanmar into three phases:
1. The Marston mat phase
2. The PVC pipe phase and
3. The stainless steel phase
For me, these materials have become icons of their style epoch.
A Marston mat is a device for recovering stuck vehicles and for building runways at field airports or short stretches of road, especially on bridges. These are thick perforated plates made of sheet metal, about 2 m long and 60 cm wide and 3 to 5 mm thick. They can be interlocked with each other on the long side. Placed on a flat surface made of sand, earth or the like, a large area can be made available for use by aircraft and heavy equipment within a short time. So far so good. But that does not explain their omnipresence in this country. They were to be seen on every corner and used for all sorts of purposes.
Mostly for fences. But garden benches, doors and other utensils were also made from it. Outside of Burma they are relatively rare and so I always wondered where on earth they all come from. At first, I thought they might be leftovers from the war, but that seemed increasingly unlikely given their huge numbers and good condition. Moreover, it is an item that is rarely seen in the hands of private individuals. I tend to associate them with the military. To this day I haven't been able to find out where all these things are coming from.
Marston mats were ousted from their top spot with the rise of the No. 2 style icon: the light blue PVC pipes. Those, I believe, are imported from China. I happen to know them from my career in the plumbing industry, where we used them mostly for drain pipes. But they were always grey in order to make them as invisible as possible. But maybe the Chinese are proud of them and want to show them off? They are mainly used for water pipes (both inflow and outflow). Which is not a problem in this country because the water pressure in Myanmar is low and most of the pipes work according to the principle of connecting tubes. In developed countries these contraptions would simply fall apart at the glue joints due to the water pressure. For the operation of washing machines etc. you'd have to install a pump in this country.
In addition, they can be used in a variety of ways. In the wake of the Corona crisis you will find them often as part of a protective shield. You go to a restaurant for a romantic dinner with your wife, with whom you live day and night. There the 'screen' made of PVC pipe and cellophane foil is placed in the middle of the table. However, you can sit next to each other, then you don't need a partition!
Moreover, PVC pipes offer undreamt-of possibilities: as a table frame, as a clothes line, as a picture frame – to name just three. The imagination knows no limits. I've even seen them used as pillars for building huts. Probably cheaper than bamboo! And more durable. For me the most beautiful use was found in a Hindu temple in Pyin Oo Lwin. The entire garden decoration was made from this material. Incredible and beautiful at the same time (photo). Old car tires were also used there as flower stands.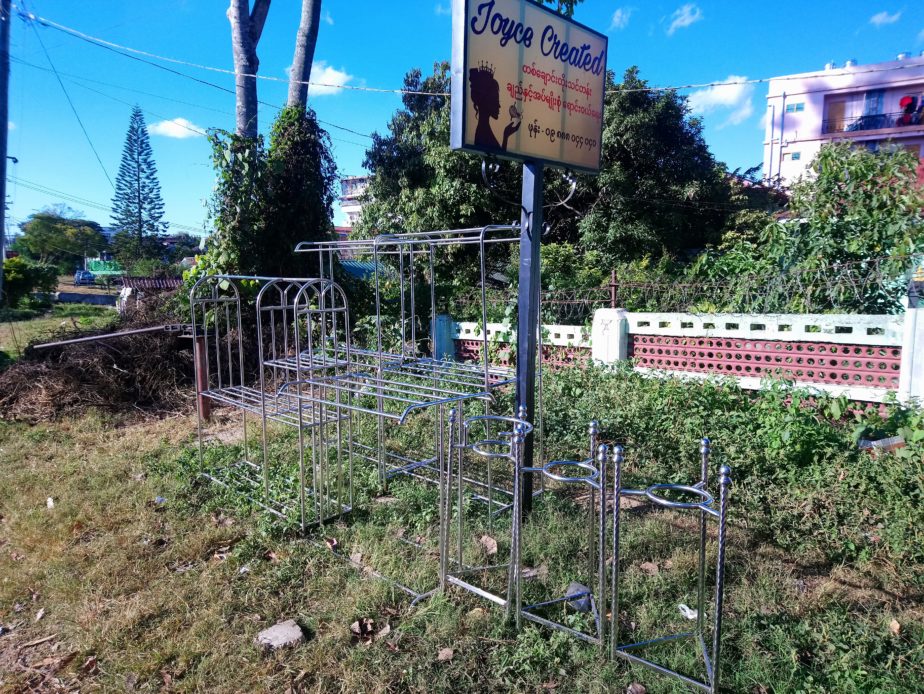 Stainless steel from China is the latest hit! This stuff is unbeatably cheap: a 6 m long pipe with a a one inch diameter costs five dollars. Presumably the Chinese have exhausted their quotas in their overseas export markets and are now dumping the stuff on the Burmese market. Since labor costs are also low, you can make the most amazing things out of it. It also glitters a lot nicer than the PVC pipes mentioned above – and they're more stable too. Railings and beds are often built from them, as well as tarpaulin frames for pickups, but also prayer chairs (see photo). Basically there is hardly anything that cannot be built with it … I had a pool heating system built out of it: 40 meters of ½ inch pipe with 20 windings cost me 70 dollars. And I probably paid way too much … Now everyone might ask: Why don't they use wood? Doesn't teak wood originate in Myanmar? The answer is simple: wood is much more expensive than stainless steel!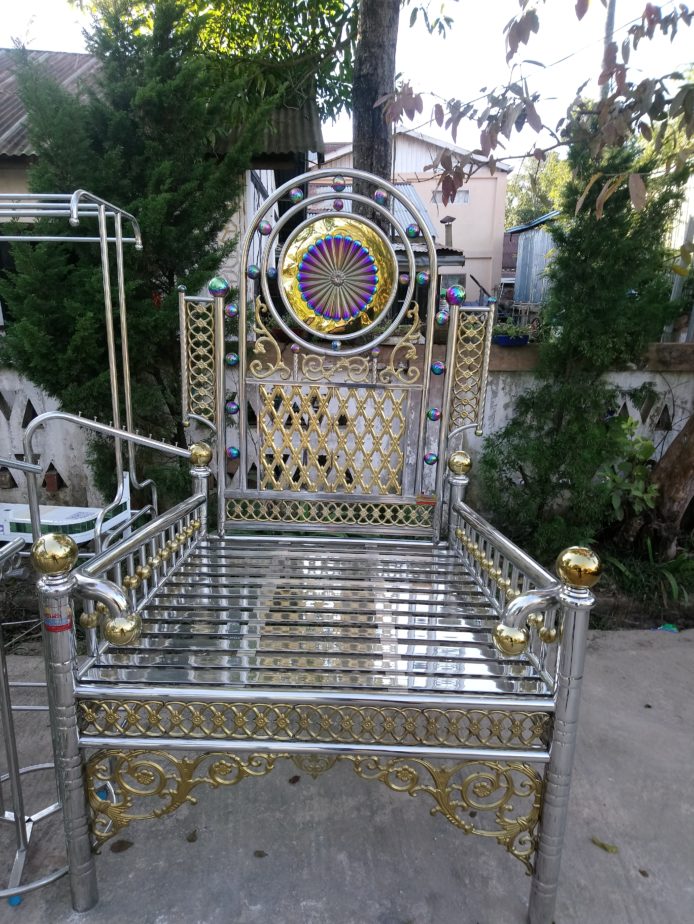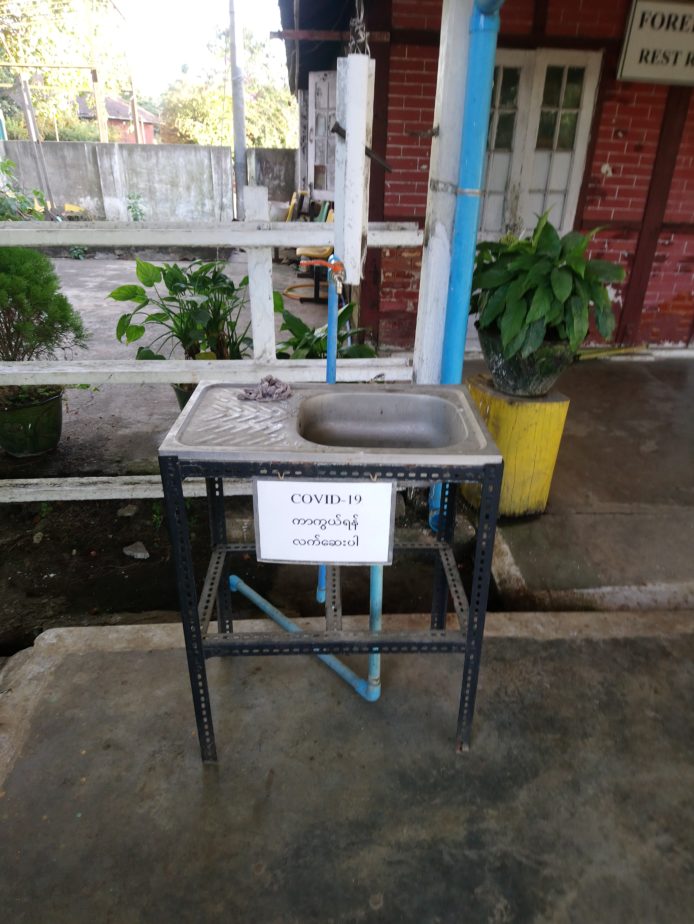 Burmese Railways (Myanmar Meeyahta) is also very creative in this regard. In front of Pyin Oo Lwin's (Maymyo) station stands a complete large stage (picture) built from railway tracks and Marston mats. On the platform, a short section of rail serves as a signal giver. When the train comes, someone hits it with an iron rod – you can't miss it! The charging station for cell phones is made of the proven stainless steel pipe, as is the wash basin set up to fight the corona epidemic.