Ever since coming to Myanmar (then Burma) the first time in 1977, I've been dreaming about this trip. How many times have I been standing in Taunggyi or Kyaing Tong and longed for taking this road. For several decades it was virtually impossible to do it, as the road (NH 27) leads through territory that was controlled by insurgents and tribal armies for a long time. Even today fighting between rebel groups and government troops flares up occasionally. If that happens, the road will be closed immediately for tourists… Now, forty-two years later, my dream came true.
The permit situation is somewhat confusing. According to MTT (Myanmar Travel & Tours) we didn't need one. On the other hand, when we reached the check post at the Salween River bridge they told us that without a permit we wouldn't have been permitted to cross the river… So better bring one. It is important that all passengers are mentioned in the permit. If one doesn't come along, just delete him or her. And bring plenty of passport copies and copies of your permit! Foreigners cannot do the trip without a licenced guide. It seems that we could have gone all the way from Heho to the Salween River without a permit. There were no checkpoints. As we've learnt, foreigners who don't have a permit are free to stay wherever they want. I mean, as long as there is a guest house with a licence. At least that's what we've been told. If you have a permit, however, you'll have to stay in Namhsam. There's a reasonable hotel in town that costs 40.000 Kyats. Including hot water! Quite a relief, as it tends to be cold at night.
The six of us (Tobias, Htet Htet, Klaus, Lucas, Andreas and myself) rented a comfortable Hyundai H 1 van from Yoma fleet. Tobias has a Burmese driving licence and drove all the way. The total distance between Heho and Kyaing Tong is about 480 km. From Heho to Namhsam it is around 160 km. Which means, you'll have to do two thirds of the trip in one go. It is NOT allowed to overnight on the way. So make sure to start early from Namhsam on day 2.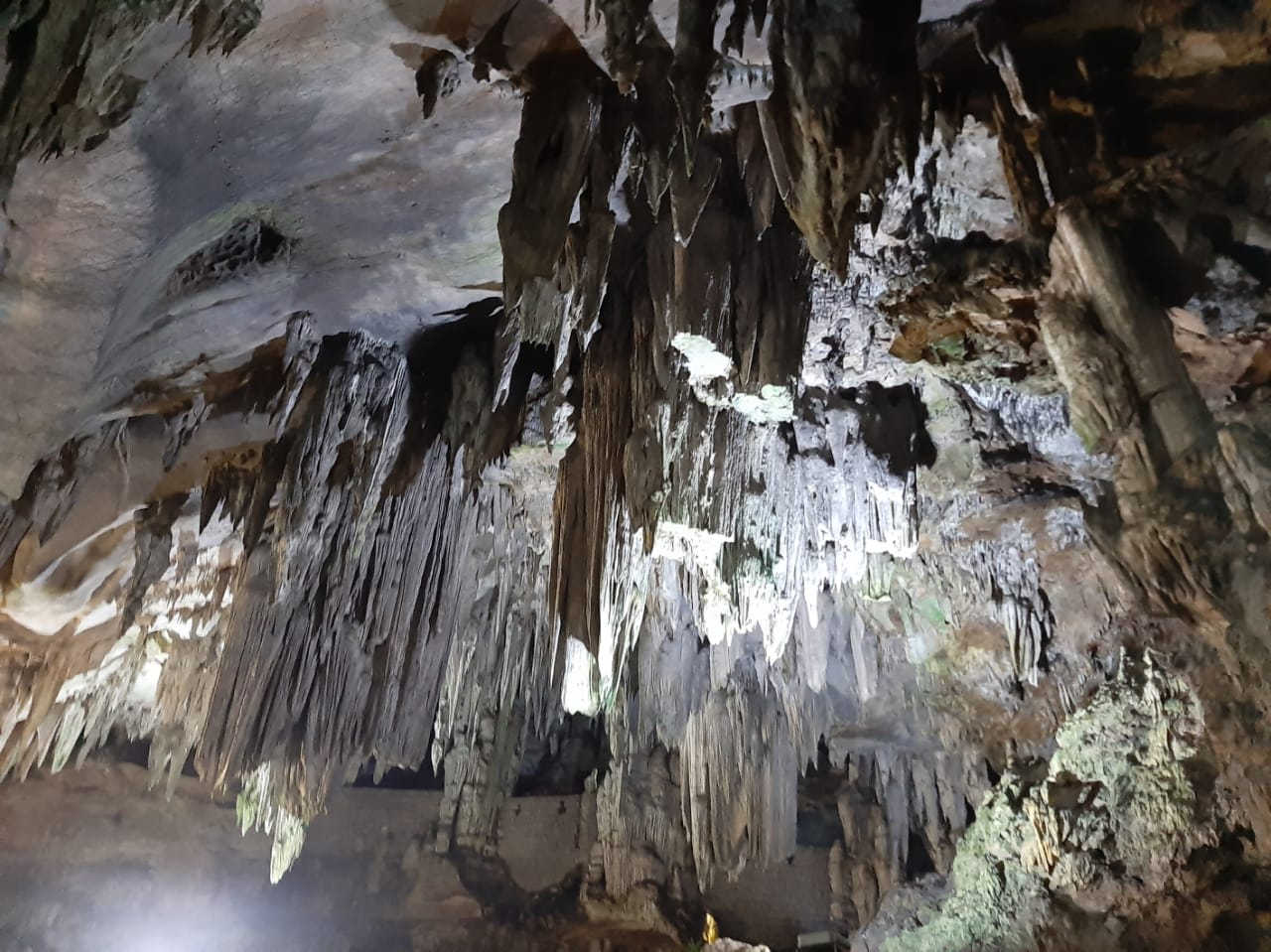 We left Heho around 9.30 am and arrived in Namhsam around 4 pm. As we had plenty of time on the first day, we made quite a few stops. The first in Hopong after ca. 50 km. There is a famous cave by the name of Htam Sam Cave. Foreigners have to pay a whopping 20 (twenty) USD. That must be the highest entry fee in the country. So we asked our local guide to go inside and take some photos. Which she did.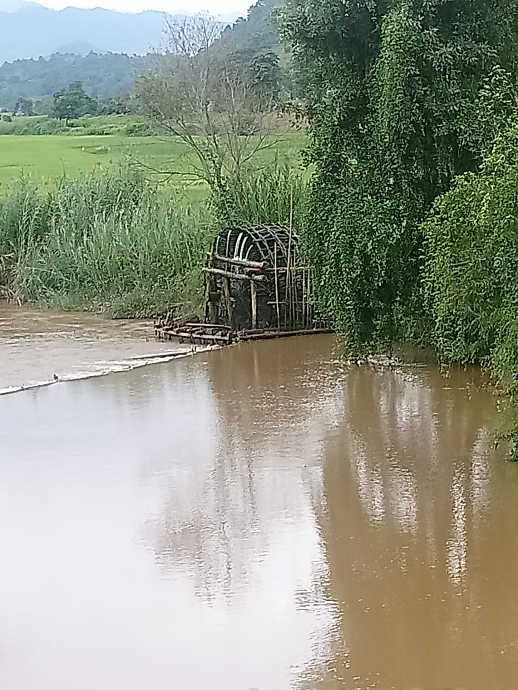 When we crossed the Nampawn River we saw an ancient (?) scoop wheel that irrigated the paddy fields nearby. The way it looked, we guessed it must be standing there for a long, long time. After a few miles we reached the famous city of Pinlon, a.k.a. Panglong, where we had lunch (Shan noodles, quite alright). Then we paid a visit to the conference site of Burmese unity, as it is called. It was here, that Aung San and 23 signatories of various ethnic groups signed the Panglong agreement on 12. February 1947 (Union Day). I had expected a house but there was only an empty space with the usual obelisk and photographs of the signatories. Aung San of course in the centre. Seems it was signed in an open air ceremony… After climbing up to about 1.700 m over a mountain pass we reached Namhsam, where we stayed at the PINELAND 2 Hotel for the night.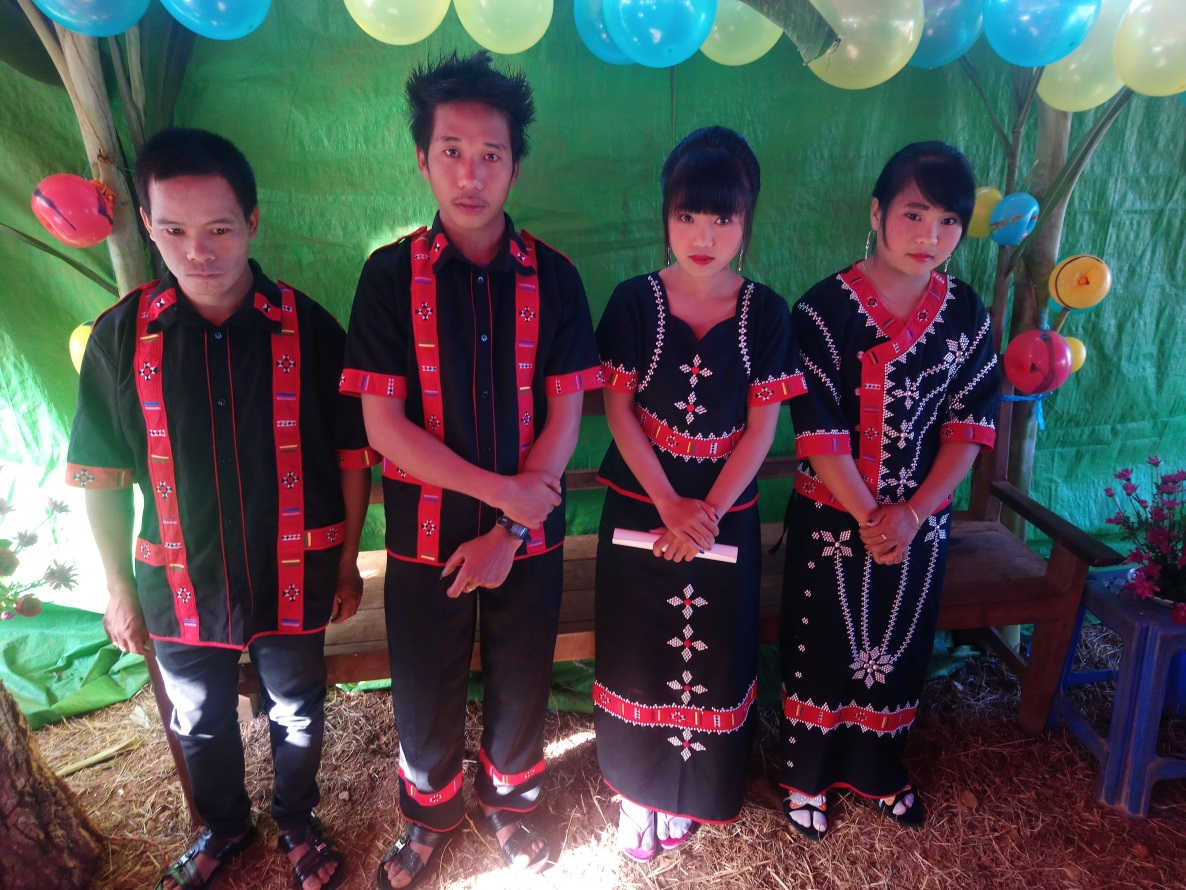 We left Namhsam at 6.30 a.m. Not far from the village Kho Lam we stopped at a small village of the Ta'Ang Palaung. The men wear remarkable trousers, resembling wide breeches. Not far from that village there is the beautiful Nawng Phar Lake, over and over covered with lotus flowers. Not to be missed! At milestone 331 (km, that is!) a deeply wooded, very dominant, steep mountain rises in the middle of rich paddy fields. A few km down the road we stopped at a Lahu wedding ceremony. The Lahu are Christians and we saw the two couples being blessed by a priest. The brides were 16, resp. 17 years old. The bridegrooms didn't look much older. The friendly people invited us for lunch (plenty of pork!) but as we had a long trip ahead of us, we had to decline their invitation. We crossed the (quite impressive) Pang River, a tributary of the Salween River and not much later the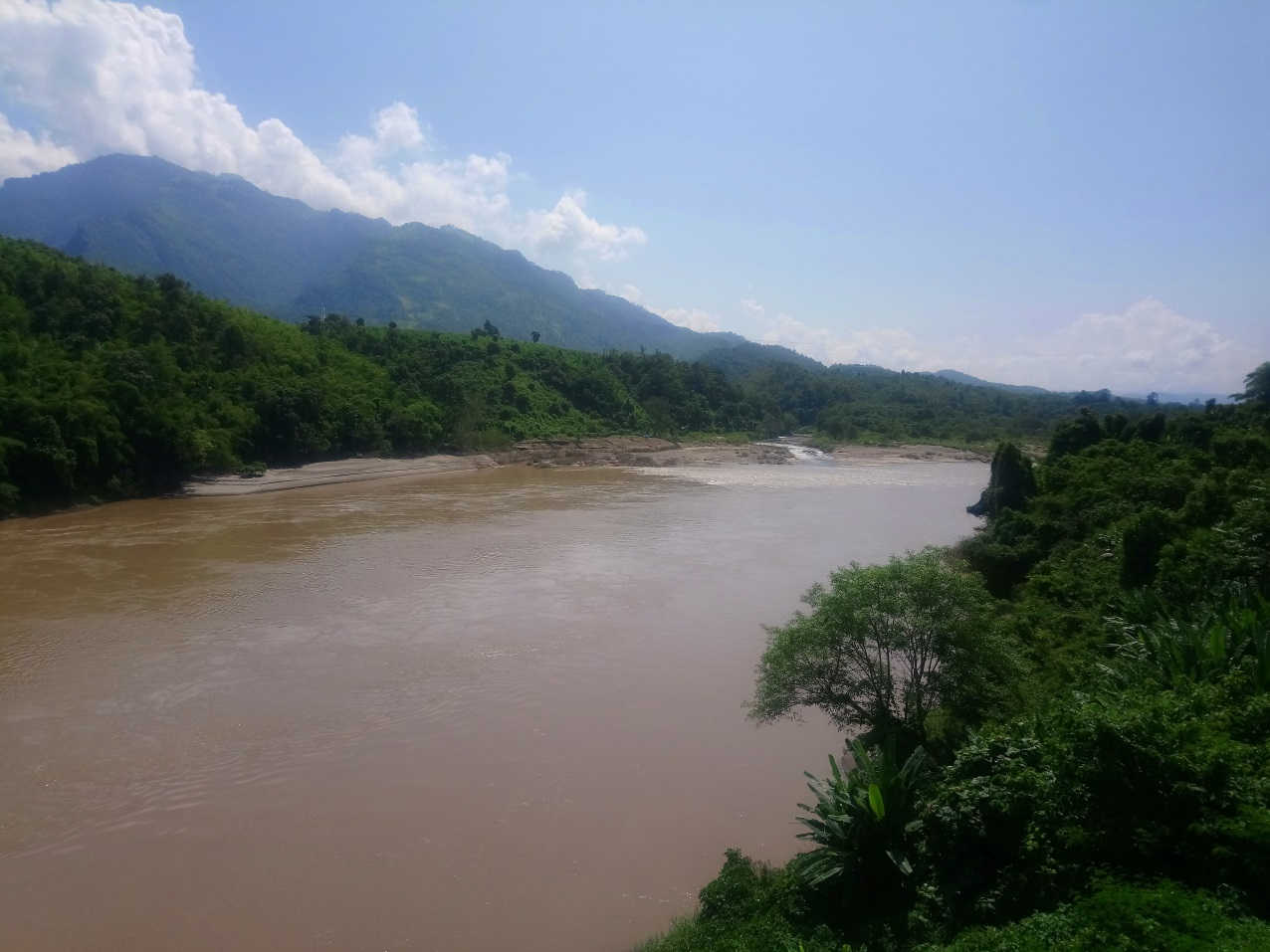 muddy waters of the Thanlwin itself greeted us from afar. At the bridge we had to report to the first check post during our trip. People were rather friendly but – as mentioned above –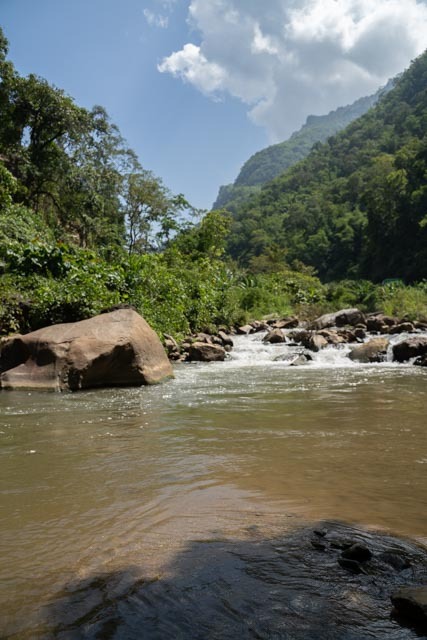 without a permit this would have been the end of the road for us. For many it may be a surprise, that the Salween River is longer than the famous Ayeyarwady River. However, its importance as a route of transport is negligible, as it runs mostly through mountainous, sparsely populated terrain. It is navigable only for around 200 km from its estuary near Mawlamyaing. Not far from the Salween we stopped at a rather romantic little waterfall. Remarkably, we didn't find any plastic waste there. A rare sight in Myanmar. But – strangely – we found a pair of underpants that someone must have forgotten there… Before reaching Kyaing Tong we had to cross a mountain pass with altitude of nearly 2.000 meters before we climbed down into the Kyaing Tong basin.
Kyaing Tong is a laid-back city. However, I have to admit that since my first visit there in 2002 the city has made quite some progress. Now quite a few reasonable restaurants cater to the demands of foreigners and power cuts were not as frequent as back then. Our favourite was the Iron Cross. From the terrace we had a spectacular view over the lake! We stayed at the Amazing Kyaing Tong Hotel, formerly known as the Kyaing Tong New Hotel. Many travelers avoid it because it was built on the site of the former palace (haw) of the Shan Sawbwas of Kyaing Tong, demolished by the Burmese government in 1991. You'll have to decide for yourself but I think it's the best deal in the city. Even the breakfast is o.k. for the western palate (butter instead of the ubiquitous Mother's Choice margarine!). The rooms were clean and quite alright (hot water, air condition and TV), even though some of our clients some time ago mentioned a feeling of forlornness, whenever they walked the hotel's dark aisles at night. They said it reminded them of the Overlook Hotel in Oregon, US, where parts of the movie 'The Shining' were shot… When I looked at the swimming pool, teeming with happy children, I thought it may have been not a totally bad idea, to turn the palace gardens into a place, where kids can enjoy a swim. Formerly, these gardens were reserved for the Shan royalty. Even though. personally I'd have preferred to convert the palace into a boutique hotel.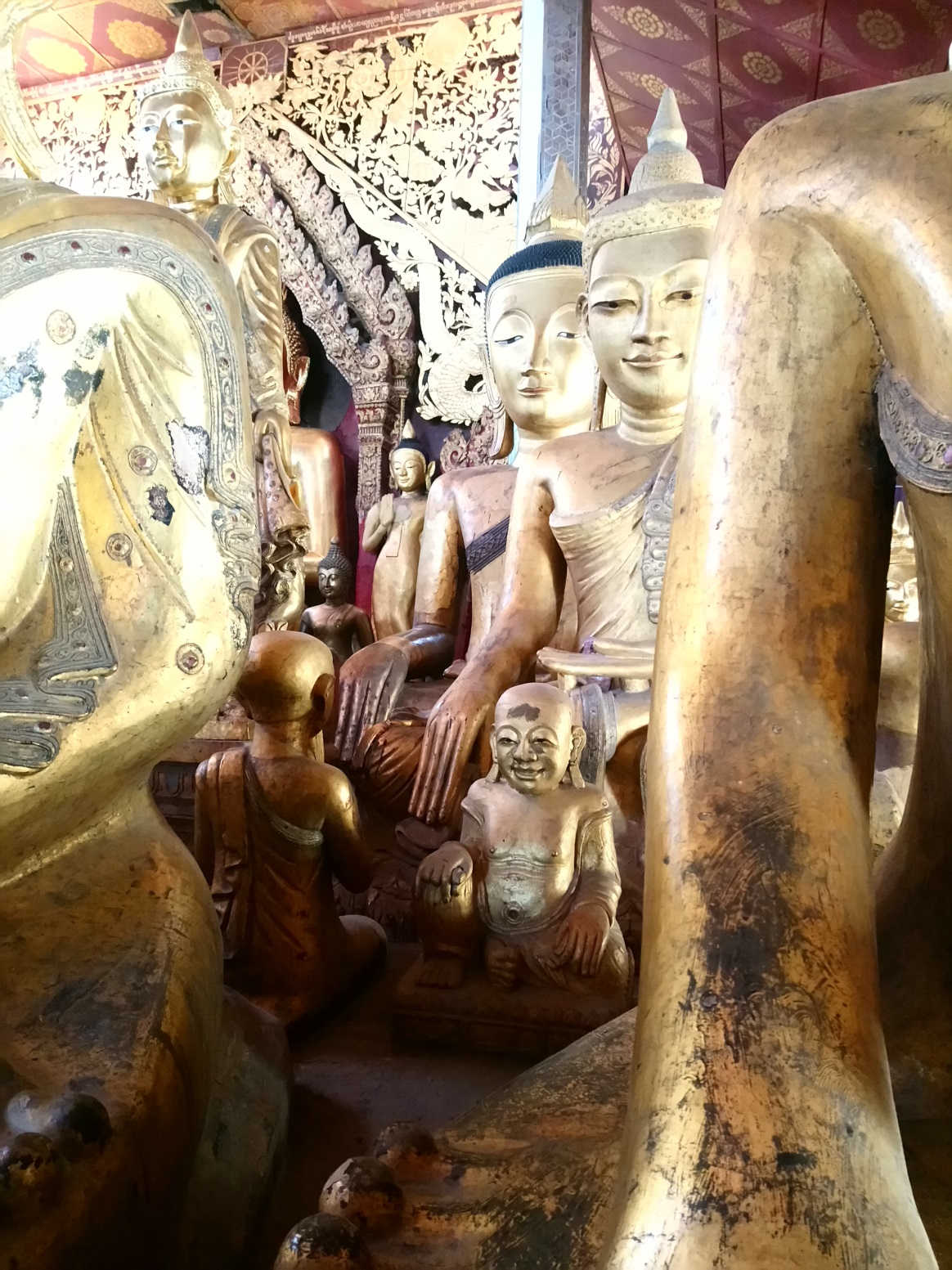 The city is home to quite a few temples. Most of them built in Laotian style rather than in the Burmese. Among them, Wat Jong Kham is definitely the highlight. It houses quite a few beautiful Buddha statues and interesting gold leaf pictures on a lacquer base. They show various scenes from the Enlightened One's life, jataka stories etc. I've noted an interesting detail in this region of Shan State: contrary to the rest of the country, the planetary posts don't show the usual eight animals. Instead, the days are identified by different postures (mudra) of the Buddha.
Unfortunately, we were not allowed to take the road to Special Region 4 with its 'capital' Mongla, dubbed as Myanmar's Las Vegas (Chinese customers only!). Even the two beautiful Loi Wa villages of Wan Nyat and Wan Seng with their picturesque Buddhist temples (wats) were not accessible. A pity! I remember there were some beautiful longhouses and the people went hunting with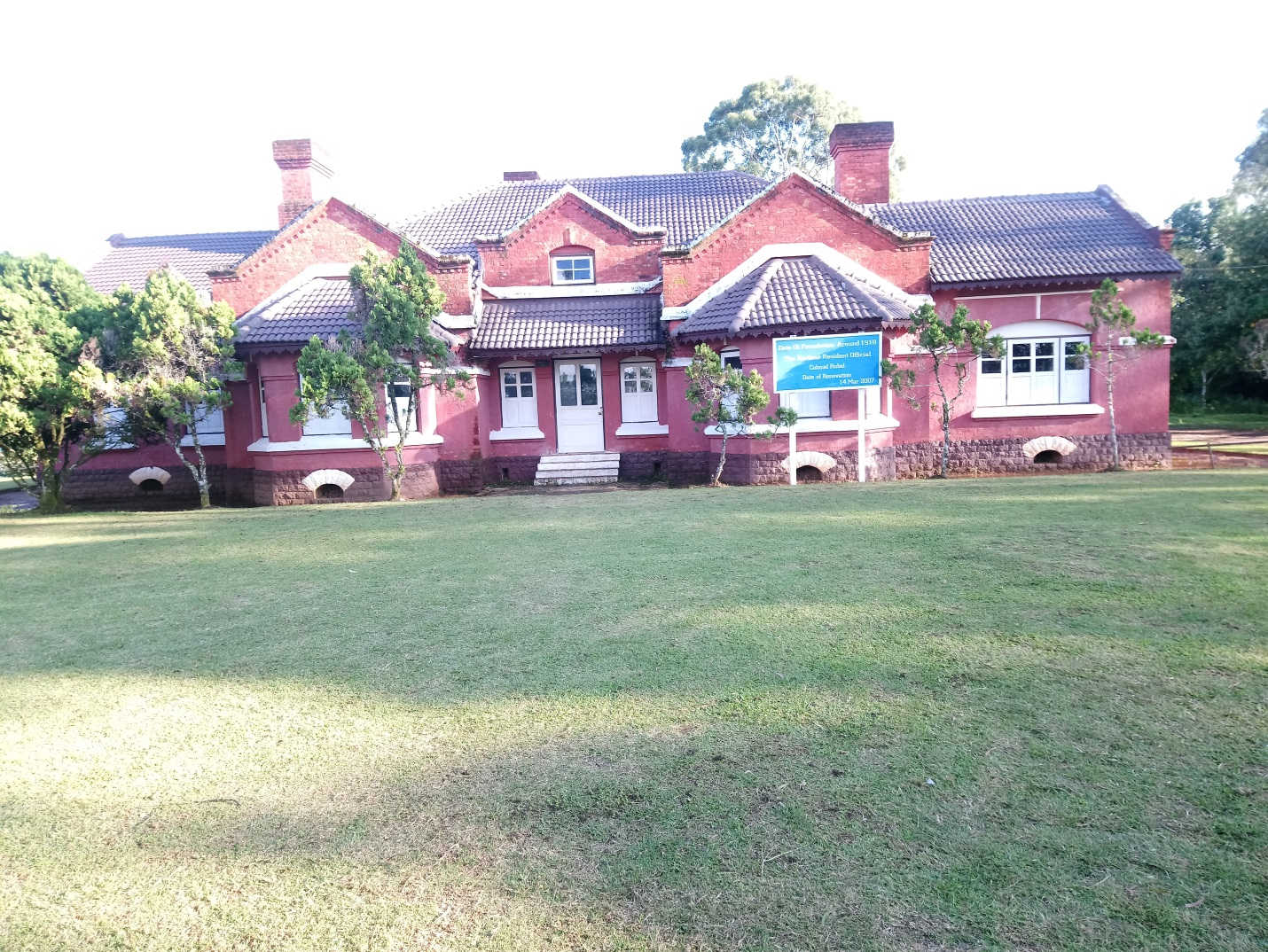 crossbows. And a lot of tea plantations up there. Better luck next time, hopefully. Instead, we went to Loi Mwe (dubbed 'Misty Mountain' by the British), situated about 30 km south of Kyaing Tong. The mountain road (definitely not for the faint-hearted) to the small hill station branches off from Highway No. 4 that leads to the border town of Tachileik. Spectacular rice terraces please the traveler's eye. The big village boasts of an artificial lake, and pagoda on the hill and a Catholic church. There we met a priest who had just finished translating the New Testament into his native Akha language. The main attraction is probably Colonel Rubel's residence, built exactly hundred years ago. Unfortunately, the red brick building is not open for visitors. From here, the colonel watched over this easternmost outpost of British India.
On the second day of our stay we visited several tribal villages in the vicinity of Kyaing Tong. Among the tribes, the Christian Lahu and the Buddhist Palaung had the nicest villages and their agriculture was quite progressed, compared to that of the other tribes. Further up in the hills, the Akha villages wer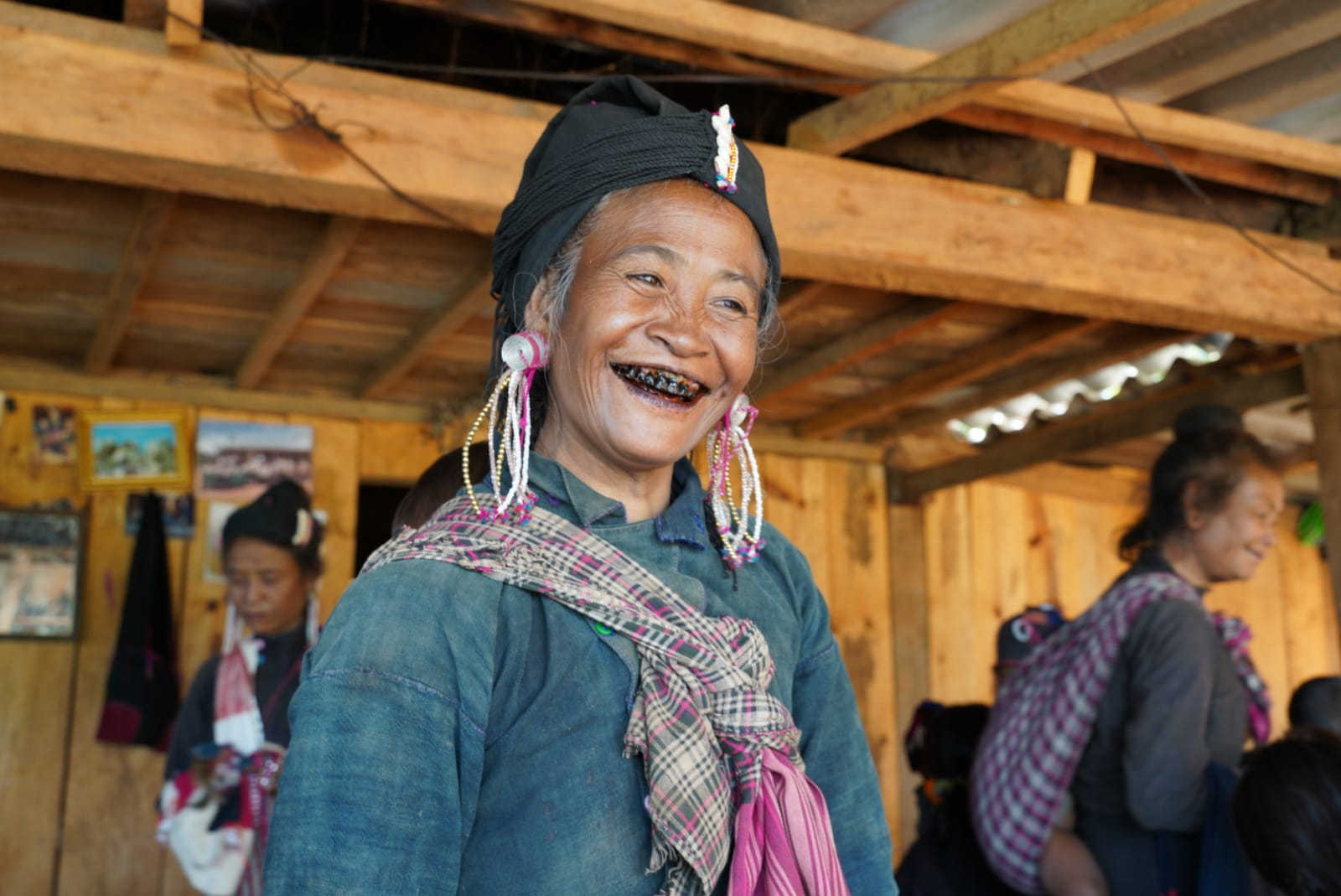 e more traditional, traces of animist worship can still be found there. The Eng (Ann) people occupy the highest places. There, agriculture is tiresome and yields are poor. They have kept their animist beliefs as well as their traditional dress. Their black teeth needs getting used to. On the other hand, we found them to be very funny characters. After a sweaty trek, the nearby hot springs offer welcome refreshment to weary travelers.
To sum it up: Don't miss this trip. If you need help, let us know!
Photos: Klaus Scholpp and Lukas Messmer!